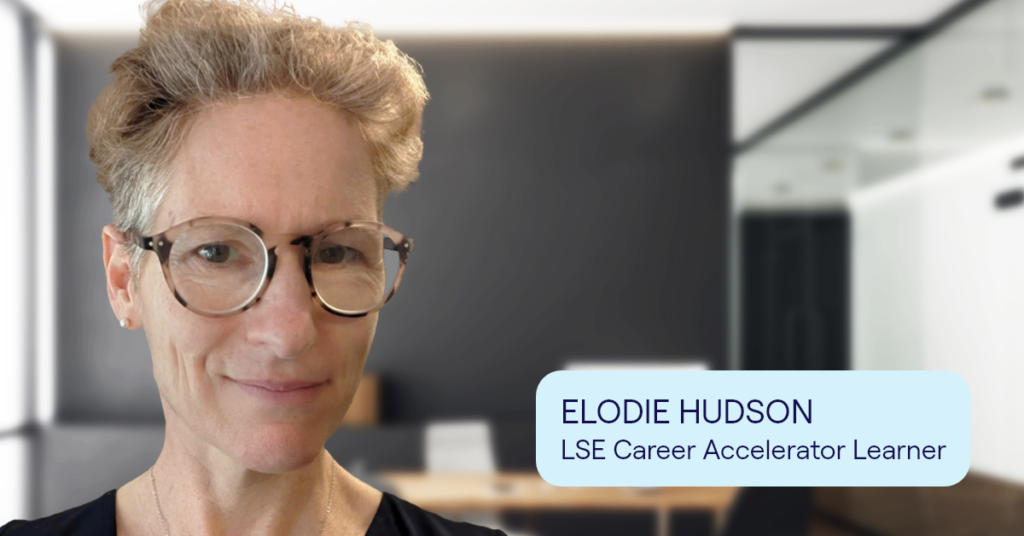 From Teacher to Data Analyst: Read Elodie's Story
Data analytics has become one of the most desirable fields to work in, with high demand and great pay – Glassdoor lists the estimated salary for a data analyst working in London in 2023 at £42,802 per year. However, without years of technical training, it doesn't always seem accessible. This is what high school science teacher, Dr Elodie Hudson, thought before she enrolled in the LSE Data Analytics Career Accelerator.
After obtaining her PhD from Imperial College London, Elodie began her career as a scientist before becoming a teacher. After more than 16 years in education, she decided to pursue a new career path: "I'd reached the stage in my career where I felt nothing was going to change. And I really wanted to try something different that would suit my skills. I'd been in an education bubble for a long time, and I wasn't sure I had the skills to make a complete change and do something completely different."
Having always been interested in data, Elodie began to explore studying options that would give her the skills she would need to transition into analytics.
She didn't have to wait long. While completing the LSE Data Analytics Career Accelerator, Elodie was offered a new role as a Business Intelligence Analyst at AssessTech, a technology and training company that specialises in all areas of competence management for the railway industry.
We asked Elodie what she thought of the Career Accelerator and how it gave her the confidence and skills to transition into a new career.
What attracted you to this specific programme compared to others out there?
"I decided to go for the LSE Career Accelerator because of the rigour of the content and the depths to which all of the skills were explored, plus the opportunity to work on an Employer Project and get support from the career coaching and success management aspects of the course. So although it's online, you feel like you're part of a big cohort. There was good contact with the facilitators, and the academic standard of the content was really good. It seemed like a course that was broad enough, deep enough and rigorous enough to actually equip me with the skills that I needed for a career change."
Did the Career Accelerator help you master new technical skills you didn't have before?
"I really enjoy data analytics, and it's been fantastic to learn how to code using SQL, Python and R, as well as how to use Tableau. All of these four are skills that I didn't have at all when I started the course. It's unbelievable how much I learned in the space of six months."
How valuable did you find working with a Career Coach?
"It's been a complete eye-opener for me. As someone who'd just turned 50 when I started the course, I really questioned whether it was too late for me to do something completely different. My coach completely opened my eyes to the world of possibilities that are out there. It's never too late to start something new. I already had more skills than I thought I had from my teaching career, so the whole [career coaching] process has been an excellent add-on to the actual analytics content of the course."
Who would you recommend this Career Accelerator to, and why?
"I would recommend this course to really two sets of people. The first would be people who want to change their careers completely and enter the world of analytics. And the second would be people already in an industry or a business where they want to stay but who want to improve their analytical skills or move into analytics within that business."
What advice would you give someone with no technical experience who might be apprehensive about enrolling in this programme?
"I always imagined any sort of tech role was just not something I was able to access. That misconception has been completely blown out of the water. You realise that, actually, [coding, for example,] is just a skill like any other that anybody can acquire. With the right mindset and approach to hard work, all the resources on the course are there for you to succeed."
If you're interested in exploring a completely new career path like Elodie did, why not find out more about the LSE Data Analytics Career Accelerator? Download the programme brochure here and book a call with an Enrolment Advisor to discuss any questions you might have.