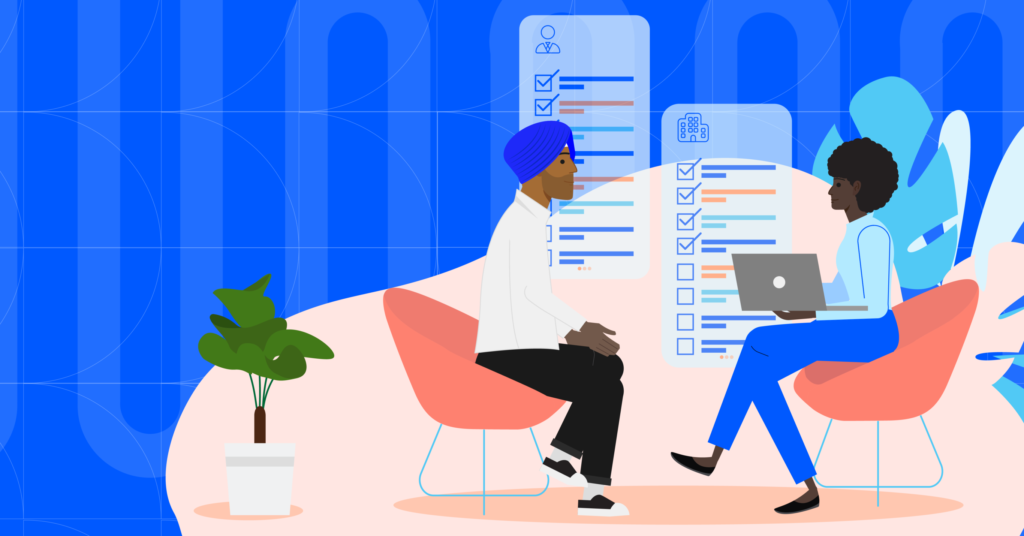 12 Tips to Ace Your Next Interview: Advice from a Career Coach
Whether you're starting out in your career or making a change, chances are you'll have an interview lined up very soon. For many people, the mere thought of an interview – whether it's virtual or in-person – can be nerve-wracking.
We spoke to one of FourthRev's career accelerator Career Coaches, Adele Leah, about what you can do to effectively prepare and go into any interview with confidence. Here are her 12 top tips.
Do your research
Way too many people turn up to interviews not knowing any details about the company, the role or who they are interviewing with. One of the best ways to make a great first impression and demonstrate your genuine interest in the opportunity is to prove that you've done your research.
1) Spend time looking through the company's website: It's important to have a clear understanding of what the company does. Being able to explain this in your own words is a great way to show that you're interested in what they do.
2) Check out their social media pages: This will give you an idea of the company's 'voice' and how they communicate with the outside world. This can also be indicative of what the culture is like.
3) Look up your interviewers: If you know who will be interviewing you, don't be afraid to look them up on LinkedIn. Many people are hesitant to do this because of LinkedIn's notification feature, but it's a direct way to show that you've done your research. It might also give you a conversation starter!
Practice makes perfect
The good news is that most interviews follow a standard blueprint. While you can't anticipate everything that will come up, there will be a few fundamental questions that you can prepare for.
4) Have a confident answer to the age-old question, "So, tell me about yourself": Take some time to work out what your personal story is. A good answer will encompass your skills, strengths, a bit about your personality and what you enjoy doing outside of work. Try writing this down to get your thoughts in order, and then practise saying it aloud in the mirror or to a friend.
5) Map out your answers to scenario-based questions: Many employers will ask questions to get an idea of how you handle challenges and work with others. Go back to experiences you've had in the past, the actions you took and the results you achieved. The STAR methodology is helpful for thinking through this.
6) Be prepared for more negative questions: While much of the interview will likely focus on your strengths and what you can bring to the organisation, you should also be ready for more 'negative' questions. These might include, "What are your weaknesses?" or "Why are you leaving your current job?" When you're feeling the pressure to present your best self in the moment, these questions can cause panic. To avoid this, be honest with yourself in advance and map out a candid answer that offers an explanation as well as a considered way forward. This will demonstrate self-awareness and a positive attitude.
7) Get ready for 'curly' questions: You might get asked something completely random, like, "If you were a sandwich, what would you be?" It's not guaranteed that something like this will come up, but it does happen. There's no real way to prepare, so take a deep breath and just roll with it if it does come up.
8) Think about your own questions: Asking your own questions is the mark of a good candidate for many organisations. You want to assess whether the company aligns with your values and whether you feel it would be a character and culture fit. You also want to get an idea of the expectations they would have of you in your new role and if there is potential to grow in your career. Many people forget that interviews are a two-way street, so maximise the chance to get the answers you need to make the right decision.
If you'd like to get even more practice, there are thousands of websites with interview questions that you can google. Don't overwhelm yourself, though! Remember, no interview will follow an exact formula. The ideal outcome of your preparation is to feel confident in telling your story, no matter how they ask you to share it.
Set yourself up for success
On the day of the interview, you want to prioritise feeling calm. Get everything ready in advance to avoid any last-minute panic.
9) Dress the part: Whether you're interviewing virtually or in person, wearing clothes that you feel confident in will put you in the right mindset. During your research, try to figure out if it's a more formal or casual company and dress accordingly. You don't want to turn up suited and booted if your interviewers are all in jeans and trainers, but equally, you don't want to go the other way either.
10) Get there early: Don't agree to a time that you'll have to rush to get to and turn up flustered. If you're meeting at their office, plan your trip to get there about 10 minutes early. Check the route the night before so that you know exactly where you're going – don't try and figure it out as you're leaving. If your interview is taking place online, make sure you're settled in a quiet space, your headphones and laptop have enough battery and all your technical permissions, like mic access, for example, are functioning properly.
11) Make sure you're comfortable: Pop to the toilet before the interview starts. Seriously! You don't want to go into the conversation with that on your mind and not be able to concentrate.
12) Relax and be yourself: Your interviewers are as interested in you as they are in your skills. Let your personality shine through as much as you can. And remember, people don't remember everything you say – they remember how you made them feel, so the aim of the game is to make them feel like you are a safe pair of hands for the job.
If you're looking to make a change and want to have the competitive edge in any interview, take a look at our career accelerator programmes. Co-designed by faculty from the world's best universities and leaders from global tech companies, they equip you with all the technical, business and human skills you need to thrive in the digital workplace. You also get to work one-on-one with a Career Coach, like Adele, to understand your career goals and chart the way to achieving them. Find out more here.
---
Written and compiled by Summer Smith and Adele Leah