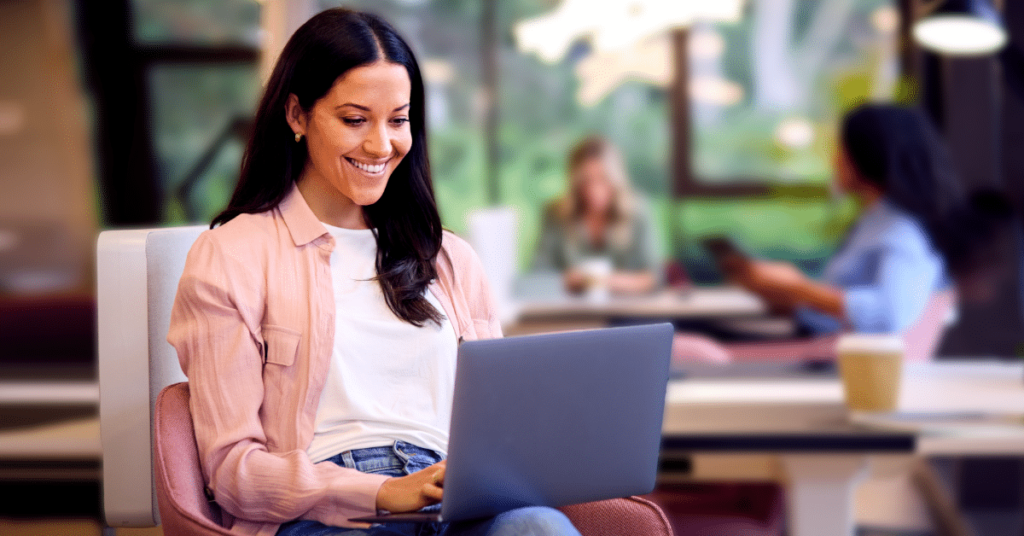 5 Career Questions Answered by Our Career Coaches
To ensure that our Career Accelerator learners continue to have access to the support and resources they need to achieve their career goals, we've created the FourthRev Community.
Every learner that completes a Career Accelerator programme is invited to join the community on Slack, where we encourage everyone to connect and network, ask career questions, share industry learnings and reach out for help when they're experiencing a career challenge. We share articles and podcasts from our university and tech partners regularly and also host a variety of online events, including webinars, live Q&A sessions with our Career Coaches and networking socials.
Get expert advice from our Career Coaches
We've devoted one of our community Slack channels to 'career questions', where we encourage our members to reach out with anything career-related that's on their mind. Our coaches all weigh in, offering expert advice and guidance through posts or voice notes.
This month, our community members were curious about:
How to present themselves when meeting new people at networking events or job interviews
Tips for pivoting in their careers
How to build a personal brand and create a winning elevator pitch
Here are some of the questions we received and the advice our Career Coaches shared:
Q: I'm nervous to go out and start networking. Do you have any insights that can help me?
Don't think of it as networking; think of it as relationship building
Emma: "I've found it helpful to reframe how you think about it. In your mind, change the idea from 'networking' to 'relationship building'. Thinking of it that way personally gave me permission to do it my way. In general, I find people like talking about their interests and careers, so you can be effective at networking by taking a genuine interest in other people."
Have an opening statement
Alice: "For me, it's about being clear about what my opening statement is going to be, especially for in-person networking. I feel more confident when I've practised what I will say when someone asks me, 'What do you do?'"
Focus on the other person
Adele: "In the past, when I went out to network, I'd focus on myself and what I was going to say or do. This used to make me feel really frazzled. Networking totally changed for me when I shifted the focus to who I was going to meet and what I could ask them to find out more about them and engage with them. It was a game changer, and I found I built great relationships, found out lots of interesting information, and felt a whole lot less nervous."
Be clear on what you want to communicate
Maiyo: "I struggled to focus on communicating my core message: Out of all the things I can do, what was the most important thing I wanted people to know? The clearer I became about that, the easier it was for me to network."
Read the room and adapt accordingly
Clare: "It is a great feeling when you meet someone, and the conversation flows, rather than those awkward interactions. I also find that I need to reflect on the message as the core message might change or need to be adapted slightly depending on the purpose of the networking."
Q: I'm looking to change industries. Should I focus on building my network and personal brand first or get out there and "fake it 'til I make it"?
Let your unique attributes shine through
Tracy: "I would own the new version of you. Be confident. People are unlikely to hire you if you don't have faith in the new version of yourself. Remember what makes you different from the rest and embrace it."
Be true to yourself
Alice: "Be your authentic self, and you will find roles that align with you more."
Q: When pivoting a career and writing a LinkedIn or CV summary, is it better to explain the past or to focus on the future?
Strike a balance between what you can already bring to the table and where you'd like to focus your growth
Alice: "When making a career change, those summaries can be so important to explain why you have pivoted. I would suggest that you touch on key parts of your past experience and the transferable skills you have gained, but also talk about your career goals now, like what you want to achieve or get into and what steps you are taking to get there – for example, enrolling in the Career Accelerator programme."
Q: What are some tips you would give to someone looking to make a career change, particularly if they have been in the same industry for a long time?
Start by visualising your ideal career and work backwards
Alice: "I recommend exploring and clarifying what a great job looks like for you. You can do this by reflecting on your past career and working out what your motivators are, what your values are, what your transferable skills and strengths are and what conditions enable you to thrive. Clarifying these factors will paint a picture of what an ideal role looks like for you."
Q: I've heard that it's useful to have an elevator pitch. How do I put one together?
Keep it quick and to the point
Tracy: "Your elevator pitch is sort of a condensed version of your branding statement. When you meet someone for the first time, what are the key pieces of information you want them to know about you? Ultimately, it's the strengths, skills and experience that you've got – and if relevant, the sector that you've been in.
Your elevator pitch will be adapted depending on who your audience is. So for a recruiter, for example, I would go on to say what you were looking for in your next role.
In terms of how long your pitch should be, I would try to stick to 30 seconds. Some people talk about a 60-second elevator pitch, but in today's world, unfortunately, people have short attention spans. You need to grab them and make sure they've understood your core message quickly, so I always suggest 30 seconds max."
Get the answers you need for your career
We'll be sharing more insights from our community and Career Coaches on a regular basis. If you're interested in making a change in your digital skills career and working directly with a coach to meet your goals, book a call with one of our enrolment advisors to find out more about our Career Accelerator programmes.