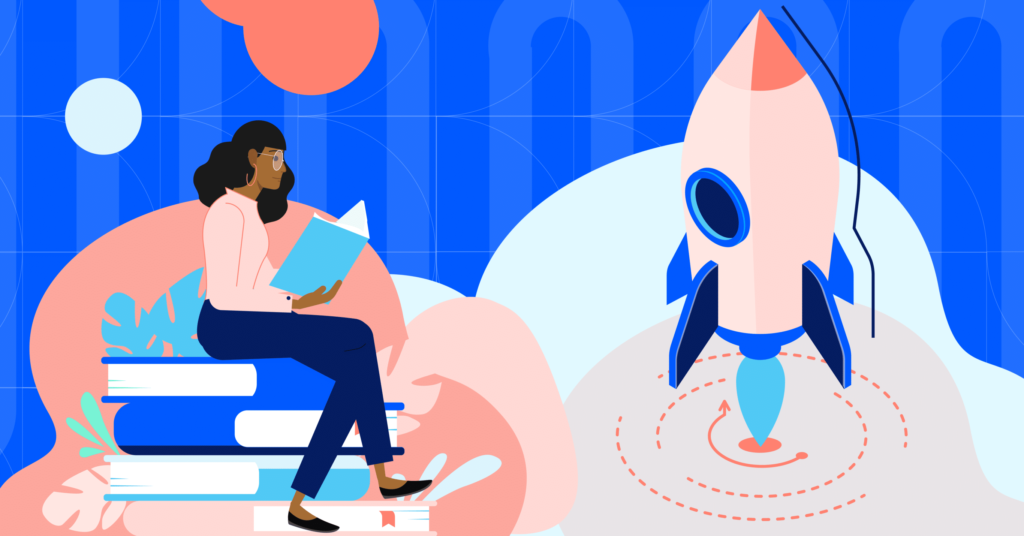 How Project-based Learning Can Accelerate Your Career
A curriculum co-designed by faculty from the world's best universities and leaders from tech companies
All the technical, business and human skills you need to thrive in the digital economy
A portfolio of industry-relevant projects that you can share with prospective employers
Collaborate with your peers on a capstone Employer Project set by renowned employer partners
Support throughout the programme from Career Coaches and your own Success Manager
Now is an exciting time to make a career move. With COVID-19 accelerating the need for digital skills, new gaps are opening in the market, which has seen employers expanding their recruiting efforts dramatically. That being said, they're not looking for just anyone to fill these positions. With the world still adapting to the pandemic's significant changes, employers are seeking out individuals who can add value to their organisation immediately. These ideal candidates have strong technical ability, a solid understanding of business operations and the right human skills to work well in a team.
From the outset, we wanted FourthRev's career accelerators to empower learners to tick these boxes. To do this, we've employed a project-based model, whereby you engage with content created by faculty from renowned universities in collaboration with leaders from global tech companies and apply your learnings to practical projects set by employers.
"The more conversations we've had with industry partners, the more we've understood the value in providing learners with the opportunity to apply their skills in a real-world context," our Chief Partnerships Officer, Mark Lester, says. "Companies are looking for candidates who can hit the ground running, and that means having the technical skills to do the job as well as the human skills to perform effectively within an organisation."
Here's a closer look at how our career accelerators have been designed to help you build a resilient skill set that will equip you with everything you need to make your next career move with confidence.
Learning material backed by industry
At a high level, each career accelerator is comprised of an orientation period followed by three six-week-long project-based learning courses, whereby you complete several industry-relevant projects. The final part of the programme features a capstone Employer Project, which has been set by an employer partner to give you an experience of what it takes to solve a real-world business problem.
Laying the foundation for career success
Faculty members from leading universities work closely with experts from tech companies to develop all the course content you engage with during the career accelerator. In the first three courses, you'll work through modules that teach key technical, business and human skills. You'll undertake practical assignments to put your learnings to the test and help you thoroughly understand how what you've learned is applied in the real world.
The Employer Project
The Employer Project serves as the final challenge of the programme. You will work with a small group of other learners to solve a business case that has been set by our employer partners. We work with different partners across career accelerators to present you with various problems to solve – whether it be analysing user-generated data from a fast-scaling tech business and making product recommendations, or building systems to help cities introduce greener transport solutions.
ThoughtWorks, one of the world's biggest technology consultancies, is one example of a company we've partnered with to deliver the Employer Project. Danilo Sato, Head of Data & AI Services UK and Europe at ThoughtWorks, says, "Data strategy now sits at the heart of successful digital organisations, and these highly prized data analytics skills are essential to a company's success. We are excited to collaborate on an employer project that will enable learners to put their newly acquired skills to the test and work together to solve the kind of business problem they'd be tackling at an organisation like ours."
Building industry insight and the opportunity to solve problems that businesses face into the course content takes the quality education you get from a world-class university to the next level. Applying your learnings to real scenarios throughout the programme helps you grasp concepts more easily and envision how you'll contribute to your next role. Working with your peers in the final leg of the programme also gives you insight into what it takes to work effectively as part of a team – a crucial skill that every employer looks for, no matter what stage of your career you're in.
A portfolio of real-world projects
Every project that you undertake as part of the career accelerator has been designed to help you build a portfolio of evidence to share with prospective employers. The course creators have ensured that the outcomes of each assessment track your progress and provide a holistic view of the skills and knowledge you've obtained. Throughout the programme, you'll be supported in gathering this information and presenting it in a way that best showcases your practical abilities as well as your understanding of business and human skills.
"The opportunity to develop a portfolio of industry projects and presentations is a unique way to demonstrate real-world experience. Working with industry, being presented with a challenge and then demonstrating the impact of your solution gives you a powerful story to tell, whether you're interviewing for a new job or going for a promotion," Daniel Cairns, our Head of Enrolments, shares.
Being able to demonstrate experience working on challenges set by leading companies will go a long way with employers looking for well-rounded candidates when you enter the job market or approach your manager to discuss your next move.
Support that focuses on your long-term career goals
Undertaking further studies is a big choice. By working through the content and practically applying what you learn, we hope that you'll feel confident in your decision and your ability to move forward in your career. You'll work directly with a Career Coach and your own Success Manager throughout the career accelerator to further encourage you to meet your career goals. You'll meet regularly, and in between courses, you'll engage in a "reflection week" with them to check in on your progress. This is to ensure that what you're learning is aligned with your long-term career goals and personal development. "It's not just about identifying where you are now, but how your choices open doors for your next opportunity and your overall progression pathway," FourthRev Career Coach, Caroline Rae, says. "Our aim as the support team is to equip you with the tools and resources you need to drive your career, not just in this next move, but in the long-term."
Find out more about career accelerators
If you're looking for a change, but you're unsure if you'll get what you need to succeed from a short course, get in touch via our website or book a call with one of our Enrolment Advisors. We'd love to tell you more about our career accelerators and how project-based learning can serve as the springboard for your next move.
---
Written and compiled by Summer Smith