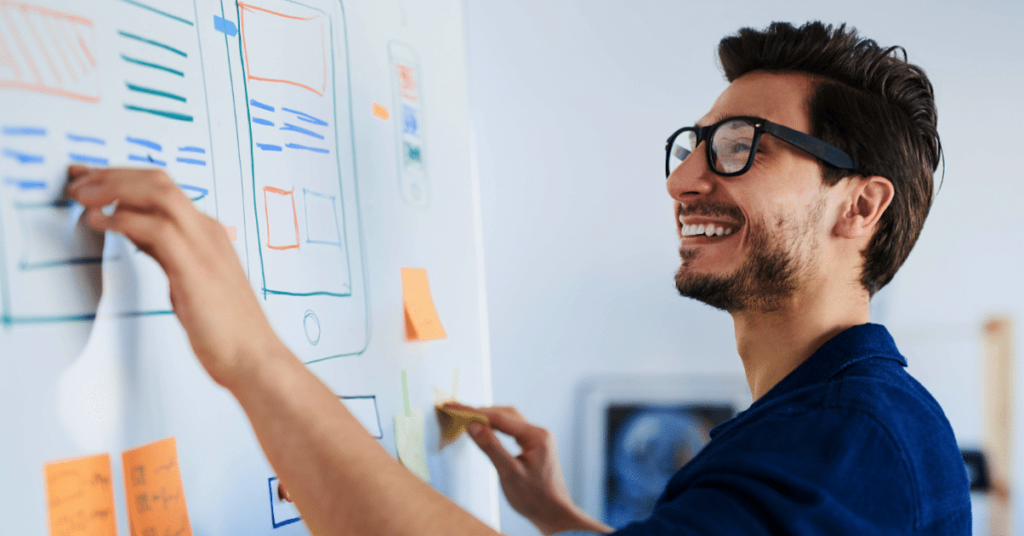 How to Become a UX Designer in 2023
User Experience (UX) Design is a term that's taken the world by storm. But what does it mean, what exactly does a UX designer do, and how can you start a career in this field?
In an interview for the Nielsen Norman Group (NNG), Don Norman, the cognitive scientist who coined the term while working at Apple in the early 90s, explains that UX Design isn't simply about creating an app or website – it's about creating a system that prioritises empathy for the user to make sure they can access what they need with the least fuss or bother.
Back then, he set up the User Experience Architects' office at Apple, where they focused on making an already good product better, and thus, the concept of UX Design was born. Today, many high-tech companies regard UX as critical because they've recognised that placing the user first is the key to reaching revenue targets and business goals, increasing productivity, and boosting customer retention.
If you're excited by the prospect of pivoting into UX Design, or you're looking to advance your current career as a UX designer, let us guide you through the ins and outs of the career, what you can expect to learn and earn, and how best to qualify yourself to ensure you can make your career move with confidence.
What is a UX Designer?
A top UX designer can strike the perfect balance between business and consumer needs. UX designers work for software for companies in nearly every industry and spend their time working on web applications, mobile apps and other specialised product features. They combine research, product development, strategy, and design to produce seamless digital user experiences that engage and delight users.
The role is flexible, and what each UX designer ultimately does varies greatly depending on the company or industry they're working in. For example, a UX designer's role at a startup will be broader than that of one who works at a large enterprise, where they might be more specialised. 
Professionals in this field will often be involved in researching user behaviour and preferences, designing with user interaction as their main focus, and continually improving the usability and accessibility of the product. This can mean anything from creating a fresh new visual design for an app to revamping the entire structure of a website, designing SAAS platforms or cloud services, or planning the perfect laptop, watch or any other product that uses an operating system.
What's the industry demand for UX designers?
Adobe collated some interesting facts about the UX industry, and one that hit home is the expectation that the UX profession will grow from about 1 million people in 2017 to about 100 million people in 2050. One of the reasons given (via NNG) is that all industries – not just tech – will start seeking to fill UX designer jobs as management recognises the importance of brand experience.
While international demand is consistent, those seeking employment in London will find many UX design opportunities. With the booming Silicon Roundabout area – London's technology hub that has attracted Google and Microsoft to set up offices – the demand for UX designer jobs is skyrocketing as tech-savvy startups and fast-growing businesses flock to the area.
Can anyone get a job as a UX designer?
One of the top reasons for there being a rush of UX designers is because of the low barrier to entry. UX Design is a relatively easy industry to break into, even if you don't have a background in tech or design. According to Kings College London, who we've partnered with on the King's UX Design Career Accelerator, 56% of those working in the field of UX design come from a variety of backgrounds, including banking, teaching, office administration and more, while 44% come from roles in tech like visual design, digital marketing, and software development.
Many of the core competencies that make for a great UX designer are transferable from other professions. Being empathetic to users, able to communicate clearly, and problem solve when presented with a complicated challenge are just some of the "soft" skills that anyone coming from any field can use to excel as a UX designer.
What it takes to become a top UX designer
At our recent 'Discover UX Design Paths' webinar, industry experts discuss the day-to-day of a UX designer, the skills required for the role, and what the current hiring landscape looks like.
When asked what they would look for when hiring a UX designer to join their team – regardless of experience levels – product design expert, Kate Parker, explains how anyone can learn the technical toolkit, but attributes such as attitude, curiosity, storytelling, and thinking differently are what she pays the most attention to. Other standout markers are logic, ideation, good communication, a growth mindset, and being able to give, look for and take on feedback.
According to the National Career Service, these are other important soft skills UX designers should have:
Thorough, with high attention to detail
Complex problem-solving skills
Persistence and determination
Analytical thinking skills
The ability to be flexible and open to change
The ability to use your initiative
Where do UX designers fit into a team?
Depending on where you work, you may be the sole UX designer and responsible for every step of the design process, or you might be part of a broader team where everyone takes on more specialised roles, for example, UX/UI frontend developers, information architects, experience or interaction designers and usability analysts.
UX designers, along with a number of associated positions, typically fall under that of the Product Designer. Here's a quick look at who does what: 
Product designer – This is a flexible position, and the person could be responsible for UX, UI (User Interface), coding, project management, problem-solving, or all of the above. A product designer's main job is to develop solutions to problems that arise during the initial development and design process.
UX designer – In this role, you'll conduct user research and usability testing, facilitate design thinking workshops, create affinity diagrams and customer journey maps, craft user personas, and finesse prototypes and wireframes
UI designer – This person is responsible for designing the screens that a user will move through in an app, website, video game, or piece of software. They focus on how the user navigates from A to B using different interactive visual touchpoints such as images, buttons, menus, forms, etc. 
UX researcher – One of the top careers in tech right now, UX researchers conduct customer research, including usability testing, user interviews, surveys, card sorting, tree testing, and field studies, to identify, plan, drive, conduct, analyse, and report insights.
Content designers/strategists – These team members create the content strategy for a campaign or product, often working with Design and UX teams to optimise the overall user experience.
An overview of a UX designer's responsibilities
Beyond what's been mentioned above, UX designers might be tasked with other job responsibilities, including:
Working in teams to decide the UX strategy for products and services
Conducting research to understand service and business needs
Building prototypes and drafts that communicate their ideas 
Writing precise specifications and guidelines for designers and developers 
Working with visual designers to meet users' expectations
Collaborating with research teams to plan and conduct user research and testing
Taking part in review sessions to discuss project development
Analysing issues and recommending solutions
As you gain more experience and progress in your UX Design career, you may gravitate towards one area in particular, like research, or you might move into a design leadership position where you'll be involved in people management, conceptualisation and strategy.
How much can a UX designer expect to earn?
According to Prospects, graduate junior UX designers can expect a starting salary of between £19,000 and £25,000, depending on their location and experience. Experienced UX designers can earn between £30,000 and £50,000, whereas senior UX designers and consultants can earn salaries of £40,000 to £65,000 or more.
Generally, UX designers can expect to receive various benefits, such as flexible working, generous holiday allowances and professional development opportunities.
Depending on the company and where in the world you are based, you'd be able to work remotely as a UX designer. Thanks to the myriad of tools available to keep dispersed teams connected, it's a job that can be performed while working from home.
Start your UX Design career 
The rise in the sheer number of courses that teach UX design is testimony to how popular the career has become. 
We recently launched the King's UX Design Career Accelerator in partnership with King's College London and industry partners, including Creative Navy, Atlassian and Dropbox.
Designed to equip you with all of the technical, business and human skills you need to thrive in this field, the programme drills down into the fundamentals of UX Design and allows you to apply what you learn to real-world problems set by employers. You'll be supported throughout the six months of learning by a dedicated Career Coach and Success Manager to ensure that you're setting career goals that will benefit you both in the short and long term.
Register for the King's UX Design Career Accelerator
If you're interested in enrolling in the next intake of the King's UX Design Career Accelerator, you can find out more by requesting the course brochure or booking a call with one of our Enrolment Advisors.
Further reading
If we've sparked your interest in the exciting, ever-changing world of UX Design, take a look at these resources for a deeper dive: