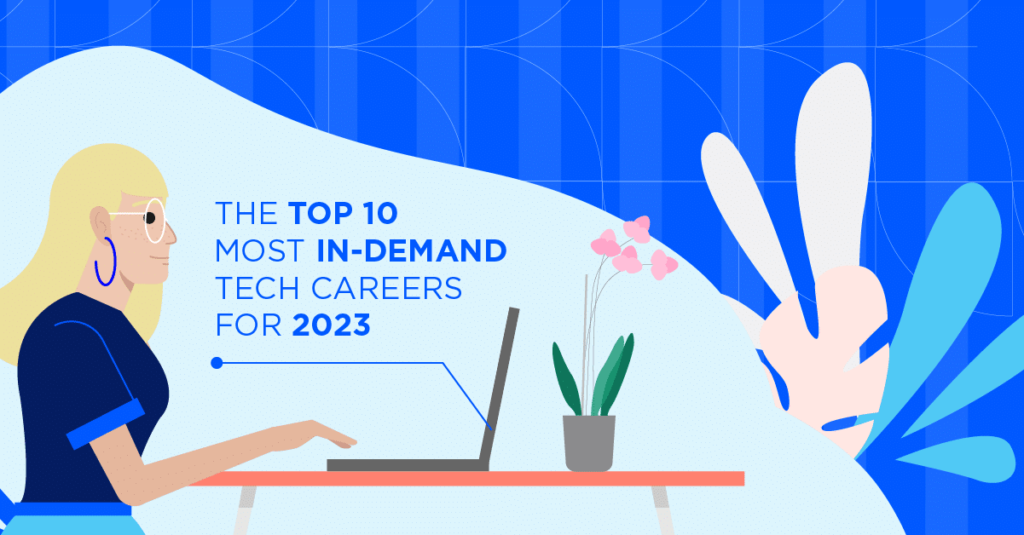 The Top 10 Most In-demand Tech Careers for 2023
There's been a lot of talk about how artificial intelligence (AI) and related technologies will drastically change the job market in the United Kingdom in the coming years, leading to an unprecedented demand for people with technical skills. Between May 2021 and 2022 alone, there were over two million vacancies for tech roles across the UK.
Although demand is currently high, it has been building up over time. A report by Lightcast looked at the share of online job postings requesting AI skills, showing that the availability of jobs tripled over the last decade, with the UK among the nations with the highest demand for people with tech skills (after the US and Sweden).
For those considering a career in tech, this is exciting news, and for those already working in tech, it's an opportunity to future-proof themselves by grabbing the opportunity to upskill and accelerate their skills acquisition. It's also good news for economies as new applications of AI are transforming entire sectors through increased innovation and productivity. The UK Government estimates these technologies can boost the economy by as much as 10% of GDP by 2030.
Tech jobs in highest demand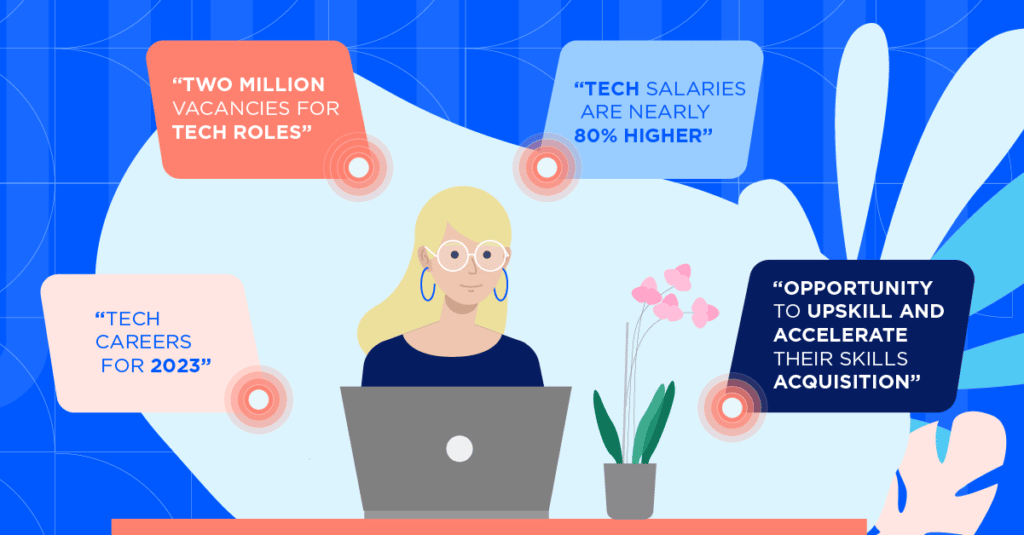 According to UK Tech News, jobs in data, cloud computing, AI and machine learning, cybersecurity, software development, blockchain and augmented/virtual reality are currently at the very top of the digital economy's charts. Drilling down, the 2022 LinkedIn Jobs on the rise in the UK report shows careers as back-end developers, site reliability engineers, and technical project managers are among those set to boom.
To get an accurate picture of tech jobs that are in demand now and in the foreseeable future, we combined the above-mentioned sources with a recent report from Technojobs.co.uk to pin down the top ten. We also considered availability of roles, core job functions, job satisfaction and earning potential*.
*Salaries tend to be higher in London, although remote work is levelling this out. On average, tech salaries in 2022 are nearly 80% higher than salaries for non-tech jobs in the UK, at £62,000 compared to £35,000.
1. Data Analyst
Demand: Businesses have to manage and analyse increasing volumes of data, which puts data analysts in high demand across sectors. Reports show ads for data analyst jobs are up 6.2% from 2019.
Job satisfaction: There are ample opportunities for growth and to acquire related skills such as machine learning. Generous paychecks and being able to choose who you work for, from where, and for how many hours per day make the job highly attractive.
Salary: Entry-level salary is around £29,000 per annum and goes up to £55,000 (experienced) and much higher for high-level and consulting jobs. Get started with LSE's Data Analytics Online Career Accelerator Course
2. Cloud Architect
Demand: Since the adoption of hybrid working, cloud computing has accelerated across the globe – and so has the demand for cloud architects. There has been a 54% increase in the demand for cloud architects in the past year.

Job satisfaction: Besides the high salary and diverse work environments, cloud architects appreciate the exposure to new technologies and opportunities to collaborate with other teams.
Salary: This is a high-paying career, with entry-level positions starting at £60,000 per annum and most experienced workers making up to £90,000 per year.
3. User Experience (UX) Researcher
Demand: UX researcher jobs are needed in multiple industries where they fill an important gap in production between designers, engineers and programmers. Demand is expected to rise by 14.9% over the next decade.
Job satisfaction: Pros are being able to work remotely and pick and choose which industry you work in. This role combines technical knowledge with behavioural science, opening up career paths into research, design and management.
Salary: Expect a starting salary of around £35,000 per annum, going up to £65,000 if you have significant experience.
4. Cybersecurity Analyst
Demand: With 39% of UK businesses experiencing a cyber attack in 2022, and the enormous cost burden this brings, cybersecurity analysts are in high demand.
Job satisfaction: This is a high-paying role with great job security, and most like the stimulating, rewarding and ever-changing nature of the work. Another plus is continuous learning required to stay ahead of the curve.
Salary: Expect around £38,000 per annum when you start out, rising to £64,000 for higher-level leadership or managerial roles.
5. Technical Project Manager
Demand: Technical project managers play an important role in the future of digital transformation for UK businesses. The demand for IT Project Managers has increased by 92% this year.
Job satisfaction: A good salary and steady job outlook make this a rewarding career. There are also great opportunities to grow professionally.
Salary: Pay starts around £40,000 per annum going up to £65,000 for those with more experience.
6. DevOps Engineer
Demand: As multiple tech businesses realise the benefits of DevOps Engineers that can work across functions, it has created a skills shortage within the DevOps recruitment market. Currently, demand is far outstretching supply.
Job satisfaction: Those with both technical and soft skills are drawn to DevOps careers because it combines development skills with interpersonal skills, critical thinking and the opportunities to initiate positive change.
Salary: Remuneration is good in this profession, with starting salaries as high as £50,000 per annum and going up to £80,000 as you progress.
7. Site Reliability Engineer (SRE)
Demand: As more organisations turn digital and with huge pressure to exceed user experience expectations, SREs are becoming increasingly sought-after. LinkedIn rated it the 21st job with the highest global demand, and job growth is projected to increase by 21% by 2028.
Job satisfaction: SREs benefit from engaging work, high salaries, and remote job opportunities. Another plus of this career is that engineers can push the limits of technology to produce state-of-the-art solutions.
Salary: Expect around £55,000 per annum as an entry salary, going up to £85,000 for senior, experienced positions.
8. Back-End Developer
Demand: High demand is driven by the global growth in e-commerce retail sales – an industry that relies heavily on back-end developers. According to a survey of recruiters by developer hiring platform HackerEarth, back-end developers top the list of in-demand tech jobs globally.
Job satisfaction: Being a back-end developer gives you multiple paths for specialisation and career progression into related fields. As with most in-demand tech careers, job security and remote work are a given.
Salary: Salaries start at £37,000 per annum, while most experienced workers make up to £67,500 per year.
9. Machine Learning Engineer (MLE)
Demand: AI and Machine Learning (ML) engineers are in high demand as the tech industry increasingly shifts its focus toward automation. In its 20 most in-demand job titles in the UK this year, LinkedIn listed machine learning engineer in second place.
Job satisfaction: Machine learning is still developing, allowing MLEs to grow as the technology matures and advances. MLEs find it rewarding to work on real-life challenges and develop solutions that have a deep impact on how businesses and people succeed.
Salary: Entry-level positions can expect to start at £50,000 per annum per year, while experienced workers make up to £80,000 per year.
10. Software Engineer
Demand: There is a high demand for software engineers, with IT Jobs Watch estimating that 10% of all jobs advertised in the UK are for software engineers. Software engineers are the most sought-after by technology, media and telecoms (TMT) firms, representing a rise of 73% year-on-year.
Job satisfaction: The high salary and many job prospects aside, software engineers appreciate the opportunities to travel, continuously learn, and work in a wide range of industries. Remote work is also a high possibility, giving them exposure to companies across the globe.
Salary: Starting pay for software engineers is £40,000 per annum, going up to £73,000 for more experienced workers.
11. Product Manager
We've added a bonus role on the rise as it just missed the top ten list.
Demand: Product manager roles are in high-demand across software and business tech industries. Tech companies take the lead in product management recruitment with 51%. Over the past few years, hiring portals like Glassdoor have seen significant growth in demand for this role and have ranked a Product Manager as the third best job in both the US (2021) and the UK (2022).
Job satisfaction: Glassdoor rates the job satisfaction of PMs as high. Product managers tend to be paid very well, but their satisfaction mainly derives from the role's diverse tech and non-tech job responsibilities and duties, growth prospects and the industry flexibility the role affords.
Salary: Entry level positions start at £40,038 per year while most experienced workers make up to £72,500 per year.
Accelerate your tech career
Our research shows that without access to the right quality of talent, businesses are unlikely to achieve their key strategic deliverables. We found that 54% struggle to find good candidates for entry-level digital economy roles, and 53% said they'd pay whatever it takes to acquire the digital skills they need.
To address this skills gap and accelerate skills acquisition, we've partnered with some of the world's leading universities and tech companies to offer Career Accelerators, a fast-track pathway into the most in-demand roles in tech. Learn more.