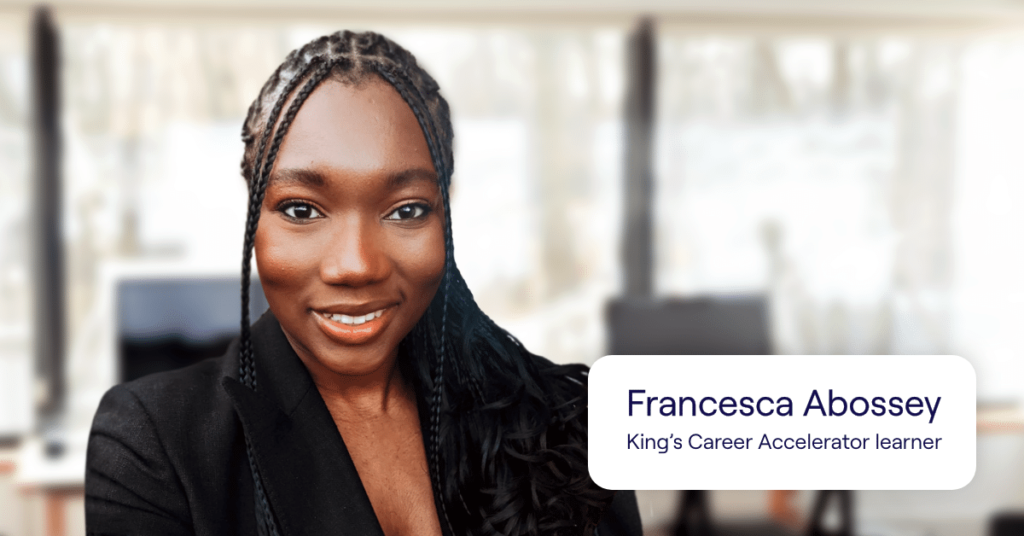 From Store Manager to Head of Retail: Read Francesca's Story
Just a few years ago, not many people knew what 'product managers' were. But today, they've become synonymous with digital products and services. 
Francesca Abossey, originally from Italy, was one of these individuals, despite her already doing many of the tasks product managers focus on as a manager of two retail stores in London. So, when the King's Product Management Career Accelerator ad appeared on LinkedIn, Francesca immediately thought "that's it". 
With a Master of Sciences in Digital Innovation Management, Francesca joined the King's programme with an impressive wealth of knowledge. She's now able to combine her creative thinking with product management skills in her role as head of retail – a role she was promoted to during her time on the Career Accelerator. 
We sat down with Francesca to understand her journey towards product management, and how the King's Product Management Career Accelerator has impacted the future of her career.
What about the Career Accelerator resonated with you?
"It combined all of the things I wanted to study. While I was searching for courses, I saw that most of them were focused on one topic. So, you have one course about user experience, one course about how to launch new products; instead this programme was doing everything, all together."
Who would you recommend this Career Accelerator to? (Subtitles available)
Tell us about the stand out moments of this programme for you?
"What I enjoyed the most was the Master Classes. So, each week, we have these Master Classes that will help you to understand your studies. Sometimes if I didn't have time, like study during the week, then I was able to understand what I had to do for my assignments, so that was very helpful."
You recently got promoted – how did that come about?
"Yes, I got promoted to head of retail at the end of February 2023 while on the programme. They appreciated how hard I worked and how innovative I am. I love what I do. I like knowing how I can help customers. I think the fact that I worked in retail for so long helps, as I know what they want. And I know what is needed to support the customer".
Tell us more about the value of working with a Success Manager and Career Coach during the programme?
"I think what helped me the most was the people that supported me, like my Success Manager and my Career Coach, who have helped me set boundaries and celebrate myself. I'm always doing things for others and never doing things for myself. I see them as my guardian angels.
"My Success Manager, he held me accountable. He would say things like 'this is what you told me the first time, and this is what you're doing – what are you going to do to change?' He even helped me to say 'no' more and 'yes' less, because I'm always saying yes to everyone, and that doesn't always help me".
What have been the biggest challenges you've encountered during this programme?
"For me it was the time. For instance, my master's degree didn't give me one module each week. So here, it was one module each week. And in one module, there is a lot to study. But my Success Manager helped me to prioritise."
If you could describe the programme in one word, what would that be? 
"I would say, 'faster' as it is such a fast-moving programme. But I would also say "grateful" for [my Success Manager, Career Coach, and the learners who were really great to interact with]."
Also interested in getting the same return on education by investing in your future like Francesca has? Then Download a programme brochure and book a call with an Enrolment Advisor to learn more about this Career Accelerator in Product Management.