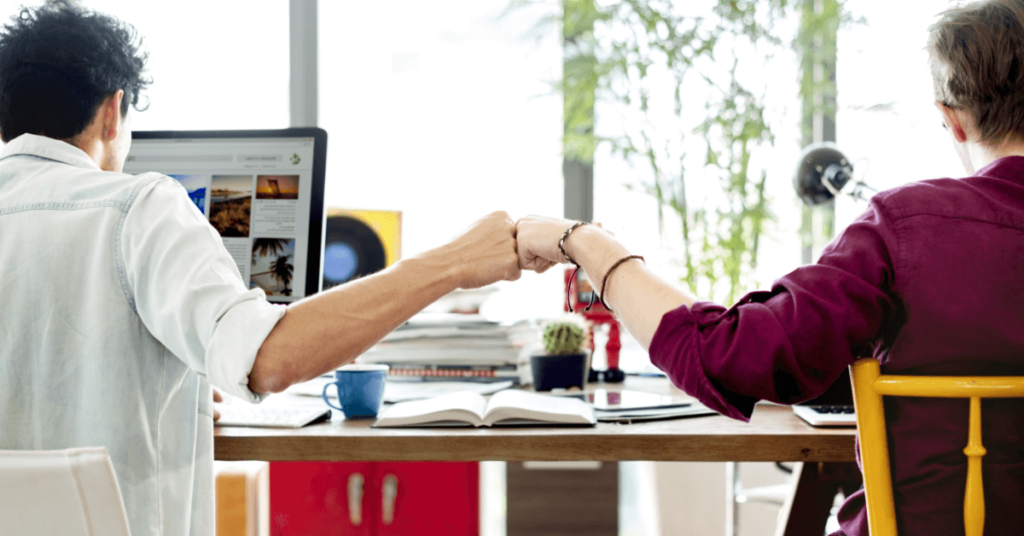 Everything You Need to Know About the Employer Project
There is nothing more highly valued by employers than experience. When looking to fill a position, companies seek candidates who can demonstrate confidence and the right skill set.
Getting this experience is not always easy for job seekers, however. While traditional education models cover a breadth of theory, they often don't include opportunities for practical application.
FourthRev's Career Accelerators are grounded in the real world. Developed by faculty from prestigious universities and business schools alongside leaders from innovative tech companies, the learning outcomes are engaging, industry-backed and relevant in today's digital economy.
The Employer Project – the capstone of our programmes – presents the ultimate opportunity for you to experience what it's like to work on a meaningful problem in your field of study at a real company. Here's a closer look at how the Employer Project works and the impact it can have.
Where does the Employer Project fit into the Career Accelerator?
The Career Accelerator starts with an orientation week, whereby you work through some introductory materials and meet with your Success Manager and Career Coach to discuss your career goals and what you want to get out of the programme.
This is followed by three six-week-long courses. At the end of each course, you'll submit an assignment. Depending on the programme, these assignments might be course-specific or build on each other over the six-month learning period. Either way, these submissions give you the chance to put the skills you have learned into practice and contribute towards a portfolio of evidence that you can show to potential employers. You can see an example of this portfolio from Eleonora Bacchi, one of our LSE Data Analytics Career Accelerator learners, here.
A reflection week follows each course. This offers a chance to meet with your Career Coach, revisit the goals you set for yourself and track your progress.
In the final part of the Career Accelerator, you'll be put into a small group and work with your peers to consolidate all the skills you've learned to complete a six-week Employer Project.
"There are elements of theory in the programme, and each one goes directly into a piece of work that eventually goes into a real-life, practical thing that you can show when applying for roles." – Aoife Duggan, a King's Product Management Career Accelerator learner
Who sets the Employer Project?
The project is set by one of our Employer Partners and involves solving a problem that a real business faces. Some examples of past projects include working with data to increase the uptake of and engagement in STEM subjects in further and higher education among women and under-represented gender minorities and developing a strategy to promote green transportation, like walking and cycling, in major cities.
Who are the Employer Partners?
We're excited to be working with a range of innovative businesses that are making an impact across the fields we currently offer Career Accelerators in. Some of our current partners include:
"The Employer Project is a real-life application of design practices; it's the learner's chance to do some real work and to get their hands dirty. It will be fun, but more importantly, it will be precisely something employers are looking for." – Dennis Lenard, CEO of Creative Navy, the employer partner on the King's UX Design Career Accelerator.
"Data strategy now sits at the heart of successful digital organisations, and these highly prized data analytics skills are essential to a company's success. We are excited to collaborate on an Employer Project that will enable learners to put their newly acquired skills to the test and work together to solve the kind of business problem they'd be tackling at an organisation like ours." – Danilo Sato, Head of Data & AI Services UK and Europe at ThoughtWorks.
"At SO-SURE, Product Management is the heartbeat of our company. As our CEO Dylan Bourguignon says, we act as the conductors, and in my experience, product managers have the power to make or break a business. While it's not for the faint of heart, it's the most rewarding and exhilarating career I can imagine. I never received any formal product training when I began, as it wasn't yet available, so I'm thrilled to be a part of the Employer Project's journey to give back to the community. I want to share any useful knowledge I have and empower students to make a difference for their employers by pursuing a fulfilling career in product management." – Charles Roels, CPO at SO-SURE.
"Partnering with academia is crucial for bridging the gap between academic theory and real-world practicality. This collaboration not only benefits the learners but also empowers leading organisations such as DocuSign to tap into a pool of talent that is well-prepared and ready to contribute from day one." – Gabi Moore, Director, Product Management at DocuSign
How is the project structured?
The project comprises four project-based assignments, which are scaffolded together to deliver your final objective. While subject to potential change, these assignments guide you through the complete stages of solution development:
Assignment 1: Project scope and demand
Assignment 2: Low-fi recommendation pitch
Assignment 3: Final presentation and report
Assignment 4: Individual reflection
Within your groups, you'll have the opportunity to research, ideate, develop a prototype and pitch a solution directly to the Employer Partner. You'll be working with real business data, so – depending on the project – you may be required to sign an NDA/MOU before commencement.
The project content has also been designed to teach you valuable human skills that are essential to succeeding in the modern workplace. Topics like business communication, demonstrating business value and diversity and inclusion in the workplace are woven into the materials you have to work with.
Why do I have to work in a group?
Working with your peers on a real-world problem provides you with an excellent opportunity to gauge what it would be like to work as part of a team. While your groups are pre-determined, you'll have the autonomy to self-organise and designate responsibilities once the project kicks off. Collaborating with others also allows you to put the human skills you've learned into practice.
What interaction will I have with industry experts?
Leaders from major tech companies have had a hand in creating all of the course content in collaboration with faculty from the university. They may host guest lectures during the courses, where you'll have the chance to hear from them directly and ask questions.
During the Employer Project, the Employer Partner will host a kick-off session to provide you with the context that you need to get started. There will be a scheduled check-in session during the six weeks, and their team will be available to answer questions should any come up along the way. Once completed, the Employer Partner will grade your final submission and provide feedback.
Because you'll be working on a solution for a real business problem, there is a chance that your work will be picked up and implemented by the company, which makes for a great talking point with prospective employers!
Can I share my work as part of my portfolio of evidence?
The Career Accelerator has been designed to ensure that everything you work on has tangible outcomes attached that will enhance your employability. Due to the sensitive nature of some projects, and the relevant privacy agreements in place, there may be limitations on the level of detail you can divulge about the Employer Project. That being said, your Career Coach will work with you to craft your portfolio of evidence so that you can showcase your new skills in a way that will best help you achieve your career goals.
What support is available?
Your Success Manager and Career Coach will be available to you throughout the programme. How and when you call on them for support is up to you.
You'll also be supported by your peers. There are regular opportunities to connect with the broader group during online sessions or in the community forum.
"The student community is a very important part of the experience as a learner. There's a lot of encouragement from the course coordinators for the students to engage with each other and learn from each other. There are a lot of structured opportunities to have that engagement." – Andreas Yiallouros, an LSE Data Analytics Career Accelerator learner
Is there a final exam?
There is no final exam. The Employer Project functions as the capstone that brings together all of the skills you have learned throughout the Career Accelerator.
Get in touch
If you're interested in registering for one of our Career Accelerators, or you have more questions about the Employer Project – or any other aspect of the programme – our Enrolment Advisors will be happy to help.